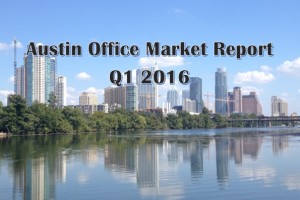 Austin Office Report publishes a quarterly newsletter to keep you updated on all things office space in and around Austin, TX.  To receive the Austin Office Market Report quarterly newsletter by email, please contact us or enter your email address in the "Sign up for my Quarterly Newsletter" box.
MARKET TRENDS
The Austin Office Market Continues to Boom
As 2016 gets started, the trend of a booming Austin office space market continues.  In 2015, over 2.5 million square feet of Austin office space was developed and rental rates rose significantly.  We are on track for a very similar occurrence this year.
The demand for Austin office space remains high and this tight market makes great office lease deals hard to find. This Austin Office Market Report newsletter is distributed as a means of informing our clients and commercial real estate tenants about ways to save time and money during the office leasing process.
The Austin office space market has experienced over 600,000 square feet of positive absorption for Q1 2016. This is incredible to see as there was nearly 2 million square feet of positive absorption in the Austin office space market for all of last year.  Due to this ever increasing demand, the rental rates for Austin office space have been steadily increasing higher. The current asking rates are approximately $3/sf higher now than they were at this time last year.
Companies are flocking to Austin to pursue quality talent and lower rental rates than those found in California, New York, and other major tech hubs. There is already nearly 2 millions square feet of new Austin office space construction planned for 2016 because of this.  Property values are going up and many tenants are seeing an increase in their NNN expenses in 2016.  This is due to an increase in the property tax amounts which get passed on to the tenant.
If you are seeking Austin office space for lease, it is in your best interest to sign the longest lease term which you are comfortable with, while making sure not to limit your potential growth plans.  Market rental rates have been rising faster than the annual rent escalations found in leases and this trend is expected to continue.
VACANCY AND RENTAL RATES
High demand for Austin office space has continued into 2016 with the citywide office space vacancy rate remaining steady at 9.5%.  Rental rates have continued to rise steadily though to an average of $24.35/sf NNN for office space throughout the Austin market.  This is up from an average $23.64/sf NNN last quarter and $21.65/sf NNN a year ago.
ADDITIONAL INFORMATION
If you are interested in rental rates for a certain location or are seeking Austin office space for lease or purchase, please contact us with your requirement.