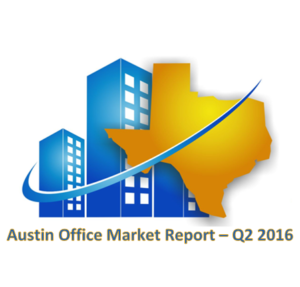 Texas Office Advisors publishes quarterly Texas Office Reports to keep our clients and commercial tenants updated on all things office space throughout the State of Texas.  To receive the Austin Office Market Report newsletter by email, please contact us or enter your email address in the "Sign up for e-mail updates" form at the bottom of the page.
Market Trends
Unemployment and Vacancy Rates Continue to Drop
The trend of a booming Austin office space market continues through 2016. The unemployment rate in the Greater Austin Area has dropped from 3.5% to 3.1% in the past 12 months.
The demand for Austin office space remains high and this tight market makes great office lease deals hard to find. This Austin Office Market Report newsletter is distributed as a means of informing our clients and commercial real estate tenants about ways to save time and money during the office leasing process.
The Austin office space market has absorbed over 250,000 square feet of office space this quarter. Surprisingly, it was the NE Austin Submarket that recorded the most absorption, totaling over 140,000 square feet of office space.  Due to the ever increasing demand, rental rates for Austin office space have been steadily increasing higher. The current asking rates are approximately 5% higher now than they were at this time last year.
If you are seeking Austin office space for lease, it is in your best interest to sign the longest lease term which you are comfortable with. However, you'll want to be sure not to limit your potential growth plans.  Market rental rates have been rising faster than the annual rent escalations found in most leases. This trend is expected to continue as the city continues to grow.
Vacancy and Rental Rates
High demand for Austin office space has continued through 2016 with the citywide office space vacancy rate dropping to 9.0% from 9.5% last quarter.  Rental rates have continued to rise steadily to an average of $33.81/sf for office space throughout the Austin market.  This is up from an average $33.08/sf last quarter and $32.33/sf twelve months ago.
Additional Information
If you are interested in rental rates for a certain location or are seeking Austin office space for lease, please contact us with your requirement.
Information in this Austin Office Market Report has been obtained from sources deemed reliable. While considered accurate, we make no guarantee, warranty, or representation about it.