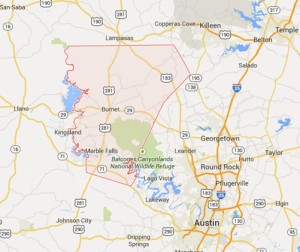 Click here to find Burnet County office space for lease.
As the Burnet County office space for lease market continues to change, it is important to stay up to date on the current market trends.
Burnet County is one of the collar counties of the Austin, TX Metropolitan Area and it lies to the NW of Travis County, TX.  In 2010, the population was 42,750 and the county seat is Burnet, TX.
Some residents of Burnet County work in Austin, Texas.  However, many work within the communities located in Burnet County.
Highway 183, Highway 29, and Highway 71 all grant quick access to Austin, TX for Burnet County residents.  Burnet County has less than 20 multi-tenant office buildings, totaling over 120,305 square feet of office space.  Most of Burnet County's office space is in the community of Marble Falls, however Bertram has office space options too.  It is often easier to find lower office rental rates in Burnet County than in the heart of Austin, TX.
For more information on current office space availabilities or the Tenant Representation Services that can help you navigate the Burnet County office market, simply contact us.  If you are trying to find Burnet County office space for lease, please fill out the "Free Commercial Space Survey" to get a customized list of the Burnet County office space that best fit your needs.