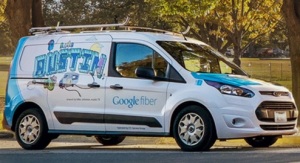 To the excitement of many, Google Fiber in Austin is becoming a reality.  Google Fiber has begun its envelopment of the Austin market and sign ups for the first Google Fiber customers have taken place.  Google Fiber is in the process of installing more than 3,000 miles of new cabling, which will allow rapid upload and download speeds of up to 1,000 Mbps.
Initially Google Fiber in Austin will only be found in South Austin, however there are rapid plans to expand the service.  Some of the options for new Google Fiber subscribers in Austin are Gigabit + TV, Gigabit Internet (100 times faster Internet), and a Basic Internet services which matches the typical internet speeds of the other vendors.
For more information on Google Fiber in Austin, check out fiber.google.com/cities/austin/home/.  If you are interested in Austin office space that will soon be carrying Google Fiber, please contact us directly.